adelphi is the leading independent think-and-do tank in Europe for climate, environment and development. We are some 300 strategists, thought leaders and practitioners working at the local and global levels to find solutions to the most urgent political, economic and social challenges of our time. As a policy consultancy, we support a just transition towards carbon neutrality and sustainable, liveable societies. Our work is grounded in transdisciplinary research, evidence-based consulting and stakeholder dialogues. With these tools we shape policy agendas, facilitate political communication, inform policy processes and support decision-makers.
Join us and you can expect to work on topical issues that connect the worlds of science and politics, in collaboration with policymakers and practitioners around the world. Contribute your ideas and expertise as part of our interdisciplinary, international project teams, and benefit from a collaborative working and learning environment with flat organisational structures.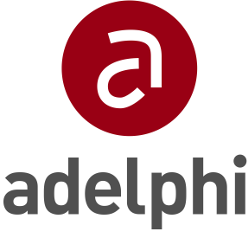 Project Assistant (m/f/d)
in the field of Sustainable Finance (20 hrs/ week) – Berlin
Your scope of responsibilities:
Reconciling economic growth with climate protection and resource efficiency requires access to affordable and appropriate financing solutions. In many countries, however, markets and frameworks for green financial products and sustainable investments are underdeveloped. adelphi supports clients from politics, business and the financial sector in designing and implementing green financing instruments, both in Europe and in developing and emerging economies.

As a project assistant, you will support our team on various projects in the field of sustainable finance and engage with the broad spectrum of our work. Among our clients are the European Investment Bank (EIB), the Kreditanstalt für Wiederaufbau (KfW), the Agence Francaise de Développement (AFD) and the Bundesministerium für Bildung und Forschung (BMBF). Our main projects include the development and implementation of green financial instruments (e.g. PF4EE), the development of online tools for banks (e.g. Green Eligibility Checker), the climate financing of development banks (e.g. IDFC Climate Facility) and the accompanying project for an international funding measure (Client2Works).
Your tasks
Research and analysis on a wide range of issues in the field of Sustainable Finance
Support on the development of online tools, for example by testing web interfaces, linguistic revisions or collaboration in the development of simplified methods for impact assessment of green investments
Collaboration on the design and organization of webinars, workshops, and conferences
Conception and creation of graphically appealing information material and presentations (e.g. for webinars, workshops, conferences)
Writing, editing and translating reports and texts (in English/German)
Participation in the preparation of proposals in the above-mentioned areas
Daily project management tasks
We intend to hire 1-3 project assistants in the first quarter of 2022. Together we will decide on your specific areas of focus, taking into consideration your educational background, methodological skills (e.g. MS Excel, programming skills, or particularly advanced language or graphic skills) and areas of interest

Your qualifications
Student in a master's degree program in political science, engineering, economics, or another relevant subject
Major in at least one of the following topics: Finance, Sustainability, Environment, Energy Efficiency/Renewable Energy (or similar) and have at least one year of remaining study time
Interest in the subject area of sustainable finance; prior experience is an advantage
Strong organizational skills and sense of responsibility, ability to work accurately, independently and in a structured manner, and willingness to think across disciplines
Very good research and information processing skills
You have an excellent command of written and spoken English and can compose well-structured and concise texts; other foreign languages (especially French) are an advantage
Written and spoken German is an advantage, but not essential.
You have a good eye for the graphical presentation of complex content (e.g. in PowerPoint)
You have advanced knowledge of the common Office programs
More in-depth IT knowledge is an advantage, e.g. advanced understanding of MS Excel (formulas, Visual Basic, creation of complex tables), content management systems, HTML, LimeSurvey
We offer
A varied and autonomous job and the assumption of responsible, varied tasks in a sustainable company
An exciting, flexible and multicultural working environment and an appreciative corporate culture with flat hierarchies
IT equipment for working remotely (laptop, monitor, keyboard, mouse, camera)
Benefits with the BVG
20 hours of work per week that can be flexibly arranged with the option to work from home, and if desired, can be increased to 40 hours per week during the semester break.
An attractive and centrally located office on the Spree as an ideal environment for creative work