adelphi is an independent think tank and leading international public policy consultancy on climate, environment and development. Our 200-strong team of experts and specialists plays a key role in generating and promoting new ideas, shaping debates, building new strategies and setting agendas. We help to forge new paths towards a sustainable future, both by providing scientifically sound policy analysis and by working in dialogue with political and civil society actors and decision-makers.
Join us and you can expect to work on topical issues that connect the worlds of science and politics, in collaboration with policymakers and practitioners around the world. Contribute your ideas and expertise as part of our interdisciplinary, international project teams, and benefit from a collaborative working and learning environment with flat organisational structures.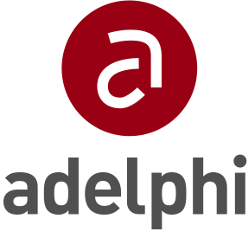 Consultant or Manager (m/f/d)
in the field of Sustainable Finance (part-time/full-time)- Berlin or Munich
Job summary
As a Consultant/Manager in adelphi's Finance Programme, you support International Funding Institutions and commercial banks in Europe and internationally in the successful implementation of sustainable finance strategies and programmes. Such strategies and programmes may concern, for example, credit lines for energy efficiency or renewable energy financing, financing facilities that support clean-tech or biodiversity investments, or financial instruments focussing on resource efficiency or circular economy.
Depending on your background and level of experience, you will:
Design and implement targeted and impactful support services for financial institutions, ranging from expert advise on sustainable finance processes and tools, over financial product development, to market assessment and sustainable finance pipeline development
Develop materials, trainings, and tools to foster financial institutions' sustainable finance capacities
Coordinate the work of internal and external consulting teams
Exchange regularly with clients such as IFIs and commercial banks
Assure the quality and compliance with project terms within your areas of responsibility
Further, as a colleague in our Finance team, you contribute to the strategic orientation and further development of our sustainable finance services; you manage and write successful proposals and participate in other business development activities; you guide and advise junior team members; and you exchange with your colleagues on a regular basis to continuously advance our team's expertise, quality of services, and team spirit.

Your qualifications:
Minimum 3 years work experience in the field of sustainable finance with a strong focus on project management and consulting
A university degree (or similar qualification) in finance/economics/business (or similar) with a focus on sustainability and an interest in related technologies and investment projects OR a university degree (or similar qualification) in engineering/environmental technologies (or similar) with additional qualification/experience in finance/business
Commitment to and sincere interest in sustainable finance; high motivation to advance national and international sustainable finance agenda's in direct collaboration with financial institutions, including commercial banks; good overview of recent sustainable finance trends and initiatives
Experience in the acquisition, development and implementation of consulting projects and in the design of training measures
A solution-, client-, and quality-oriented approach to work; strong analytical and conceptual skills as well as attention to detail
Demonstrated ability to oversee various activities at once ensuring timely and successful implementation; distinctive organizational ability and strong sense of responsibility
Confident and friendly appearance in dealing with cooperation partners, clients, and colleagues; open and engaging communication style and great interpersonal skills; dedicated team-player

Interest in a long-term collaboration in our dynamically working and growing Finance team

Excellent oral and written expression in English

Very good knowledge of common office programs (Word, Excel and PowerPoint)

Willingness to occasionally travel to project countries for short-term stays

Desired:


Experience in the design and implementation of technical assistance/expert support for sustainability oriented credit lines

Relevant professional experience in the finance/banking sector

Knowledge and experience in developing and running trainings;• Knowledge and experience in developing and running trainings

Excellent oral and written expression in German or French, additional foreign language skills (e.g. Spanish) are an advantage

We offer:
A job with a high degree of autonomy that allows you to strengthen your profile and experience in sustainable finance and pro-actively shape your area of work
The possibility to strive creatively, shape impactful solutions for sustainable finance, and quickly take on responsibility for projects and versatile tasks
An impact oriented work environment with flat hierarchies and friendly and committed colleagues
Continuous advancement of your competencies and an active work-life balance through flexible working hours and working time models
A company pension plan subsidized by the employer and an attractive benefits programme (e.g. Urban Sports Club membership at discounted rates)
An attractive and centrally located workplace in Berlin (preferred) or Munich, easily accessible by bike, subway or bus (remote work may be possible)